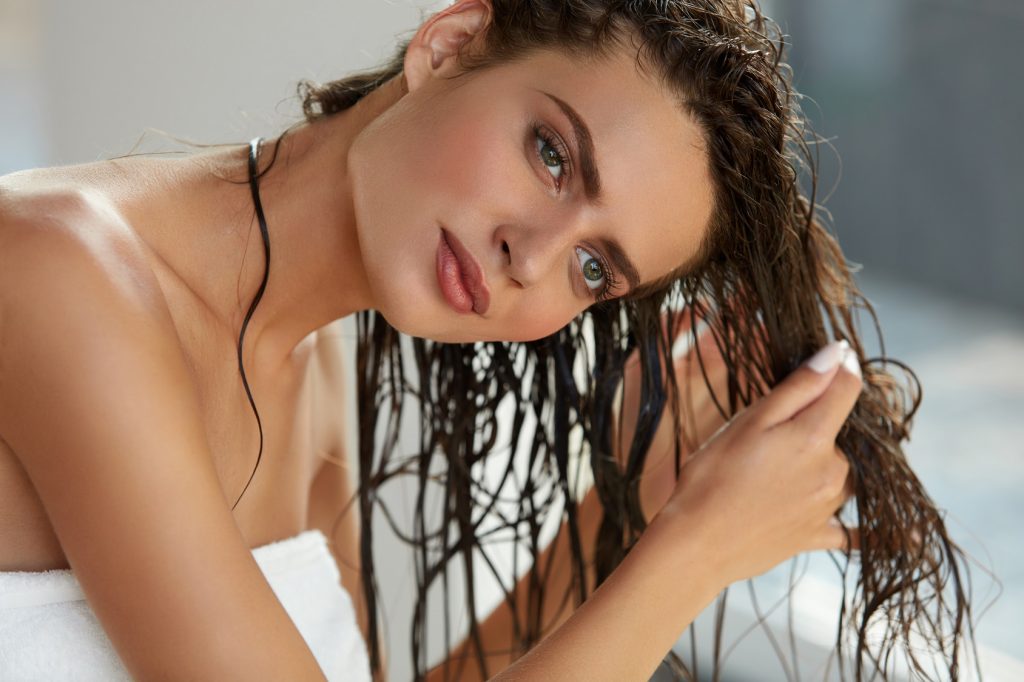 What do you know about hair oil treatment? Very little, believe me. Today, traditional Indian hair oiling is performed by women worldwide.
Learn more on this topic, the choice of a hair oil and oiling methods so that you can do it the right way!
We are often unaware that hair oiling is a beauty treatment that comes from India. We wonder who came up with an idea to apply a greasy oil to hair. Indian women did! It was the only way for preventing hair dehydration. Oil and water don't mix so if you apply the oil to hair, it locks in moisture. In short, this is how emollients work. They are extremely important in hot regions.
Nowadays, we know that hair oils not only protect. They offer a variety of uses so you should get yourself at least one oil.
The effects of using natural oils:
replenish nutrients,
reinforce keratin hair structure,
prevent loss of water,
protect from UV radiation,
enrich the hydro-lipid layer of hair,
prevent hair loss,
control sebum secretion (no longer greasy hair),
soothe various irritations,
restore pH of the scalp,
most of all, smooth and increase shine.
Obviously, hair oils offer even more benefits. There are no two oils that are alike! More or less 150 oils – extracted from domestic or exotic plants – are used in cosmetics. Every hair oil has its unique properties and helps to tackle different problems. The differences result, most of all, from the composition.
What are natural oils composed of?
Similarly to all plant substances, they contain lots of strongly concentrated nutrients. Hair oil is a source of vitamins, minerals and plant sterols. Some oils include squalane (an ingredient of human sebum) that is beneficial for the hair and scalp. However, fatty acids are the most important. They play two key roles. First of all, they strengthen the protective lipid barrier of the hair. Second of all, they bind the scales that surround the hair thus help us fight for lower porosity.
Oils can be composed of:
saturated fatty acids,
monounsaturated fatty acids (omega-7 and omega-9),
polyunsaturated fatty acids (omega-3 and omega-6).
Interestingly, every hair oil contains all three types of fatty acids yet in different quantities. For example, some oils have more omega-6 acids. The content of fatty acids determines which hair type the oil is ideal for.
How to properly choose a hair oil?
Let's go back to hair porosity as it is the key in the choice of oils. The effective hair oiling involves choosing an oil that matches our hair. Saturated oils have the smallest particles so they can penetrate through the tight cuticle layer. Large particles would weigh the hair down in this case but they work for high porosity hair that needs strengthening and sealing the scales. It is simple:
Low porosity hair + Oils with saturated acids
Medium porosity hair + Oils with omega-7 and omega-9 acids
High porosity hair + Oils with omega-3 and omega-6 acids
Hair oiling – what is it?
It is one of the most effective hair care methods. Surely, its biggest asset is naturalness. Hair oiling ensures harmonic care that perfectly matches the natural life cycle of the hair and satisfies its needs. Even though there is no one definition of hair oiling, we know it consists of applying an oil to the hair and scalp. The oil's task is improving your hair condition. It works as a superb replacement for other hair care products.
Remember! If you want to enjoy visible effects, you must oil both hair and scalp because the most important part of our hair – a bulb needing nutrients – is located under the skin. Search for oils that are free from silicones and parabens thus are suitable for scalp oiling. You will deliver full hair care in this way.
Oils can be applied in a variety of ways. Therefore, after picking an oil that ideally matches our hair type, we must devote some time to choosing the best hair oiling method. Every method delivers a bit different action. The time you must devote also differs.
Hair oiling methods:
Dry hair oiling – when you apply the oil without wetting the hair or after blow-drying.
Wet hair oiling – when you apply the oil to damp or gently towel-dried hair.
Hot oil treatment – when you gently heat the oil up before the application.
In a bowl – when you mix a small amount of an oil with water and soak the hair in the mixture.
There are more hair oiling methods than the ones described. Natural oils have another advantage. They can be applied before or after shampooing. We can oil the hair for the whole night or use the oil during the day for shine and smoothness. Hair and scalp oiling gives endless possibilities of the application.